UX Principles That Will Improve Your Landing Page Conversion Rate
Being able to maintain a high conversion rate is one of the key factors for a successful online business, simply because it proves that web users act in consonance with your brand's goals. Digital experts agree that conversion rate is very much determined by user experience, or everything that a user observes and takes in when navigating through a certain webpage.
UX is especially significant for landing pages, since these pages are designed to immediately win a user's favor towards the brand or product. Your landing page will make all the difference in your conversions if it is designed in an attractive and practical way. And it's not just about appearances, either: studies suggest that almost 67% of people prefer an aesthetically pleasing web page to a plain one. Credibility is also largely decided upon based on page design. So, while useful content is extremely important, a great design will determine how UX turns out.
Here are 6 UX principles that have been shown to increase conversions:
Create focus
Much like a doorway to a certain point or destination, a landing page directs users to arrive at what they were looking for or what was promised in an ad. The landing page has one job: to convert users towards your goal, be it online sales, leads, signups, or form completions.
Hence, try to design it in such a way that users can easily accomplish your specific goal. Avoid putting too many choices, distracting elements, and multiple calls to action. As Professor Iyengar, author of The Art of Choosing says, "Too many choices can overwhelm us and cause us not to choose at all." Limiting the user to a single choice will ensure that they are focused on the goal and won't be distracted making too many decisions.
Make your call to action strategic
In marketing, an effective call to action (CTA) prompts the consumer to make an immediate purchase by providing compelling reasons to do so. As with digital businesses, the key word is immediate—users subscribe to, purchase, or sign up for any given offer right away.
In order to successfully convert site visitors, choose emphatic CTA phrases such as "Get Started," "Sign Up for Free," "Subscribe," "Join," and "I Want to Try It," to name a few. The tone could also be informative, like "What We Do" or "Who We Are." Whichever phrasing works for your objective, insert the CTA as a clickable call-to-action button to attract visual interest.
In deciding where to place the CTA button, it's useful to apply the Rule of Thirds principle whereby the most eye-catching positions are said to be in the four middle intersections of the page. It also helps if the CTA button has a vibrant color or has the same color theme as the brand logo.

Simplify design

Want to boost your conversion rates? Simplicity is key! An uncluttered, visually simple page will attract more users than a crammed, confused page. The same principle of limiting choices also applies to web design: a focused, non-complex page design results in high levels of appeal.
A simple design means that the landing page has some form of imagery, graphics, or multimedia. These are recognized as "trust elements" which can emotionally persuade users to respond to your CTA. That being said, be very careful when using these devices. Try to stay away from exaggerated animation effects and distracting graphics. Instead, think about how the design can facilitate an online visitor to take action the easiest way possible.
The layout is also something to think about when designing your landing page, because it subtly contributes to how content and CTA are taken in. Researchers have found that most people naturally lean towards an F-Layout, where eye direction starts from left to right at the top of the screen, then moves downwards and repeats the pattern. The bottom right is found to get the least amount of visibility. You can therefore engage a user's visual behavior by placing the most important objects and CTAs along the F-shape lines, and the least important ones on the bottom right.
Make your seconds count
Studies have shown that you only have 8 seconds to capture a site user's attention, because that is the average length of the human attention span. Such a tiny window of opportunity to connect! Hence, you really have to make those seconds count. Here are some tips to effectively grab those precious seconds:
Use a headline that is simple, direct to the point, and clearly says what benefit the user can gain.
Try to make your copy succinct, but with impact. Use power words—words that trigger an emotional response—to engage with the user.
Make call to action buttons easy to spot and persuasive.
Incorporate images and multimedia content that are relevant to the brand.
Use color wisely—achieve contrast with the page background and buttons by using complementary colors from the color wheel.
Make sure that the page is readable by using big fonts (18-point fonts usually work best), and only use font styles that are appropriate for your brand or product.
Use high-quality images

A picture is worth a thousand words, right?
Take advantage of the power of visual communication as compelling images will make the user experience more meaningful. In fact, studies found that a powerful image enables 94% more views of a page. It was also suggested that 60% of consumers are more engaged towards search results that include images, and 23% are more likely to contact a business that has an image on its landing page.
It's important to remember that for images to be effective, they have to be high-quality, simple but with a personalized feel, as if they are a representative of the brand or product. Never opt for generic and bland stock photos that do not add any personality to the page. If there is an opportunity, you could even establish a face for the brand—perhaps one of the owners or even a model—as long as it is someone that your target demographic can relate to and feel a connection with.
Increase speed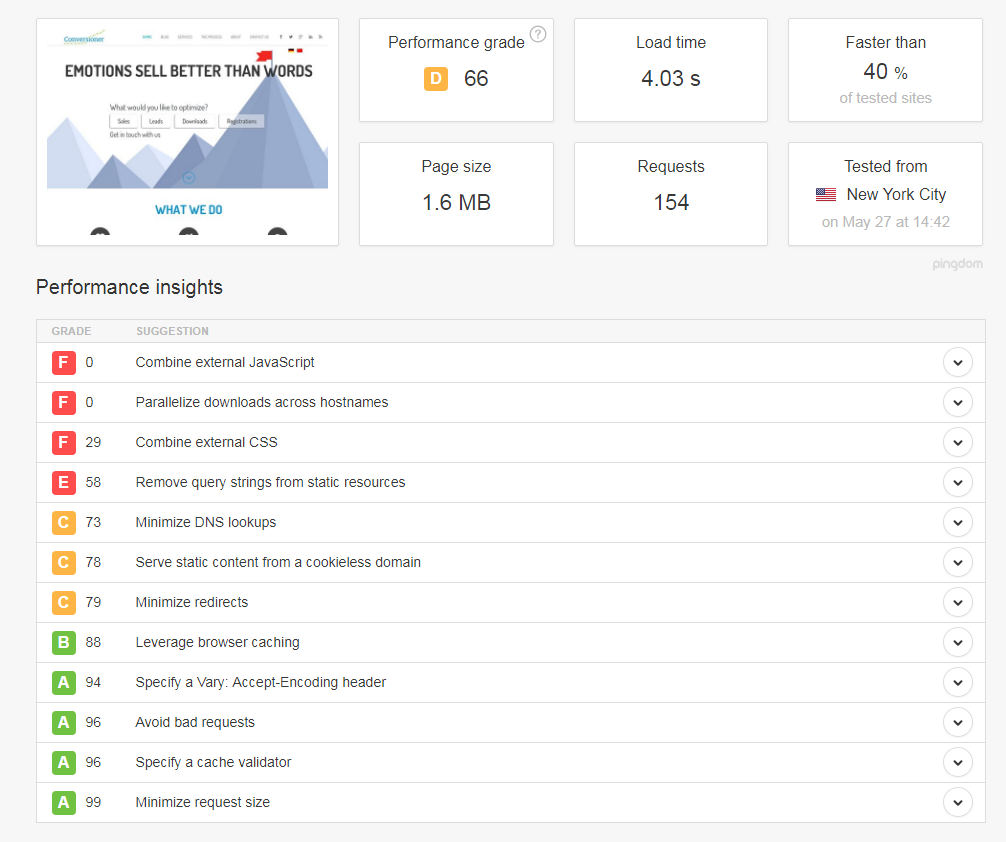 The speed of your website is a major factor in the overall UX. Sites that are faster are able to enjoy both conversion gains and high search engine rankings. Research indicates that if your page takes longer than three seconds to load, it is already considered too slow. And if user leads are dwindling, so are the possible conversions.
A few basic ways to increase website speed would include the following:
Upgrading your hosting plan, especially if you are still using shared hosting
Optimizing images
Using plug-ins sparingly
Eliminating website baggage (e.g., external scripts, plug-ins)
Taking advantage of CSS and JS files to make the elements as Internet-friendly as possible.
Conclusion
these six principles have shown that a few informed tweaks in design, content, and site management are essential to achieve the most favorable user experience and in turn get you those coveted conversions. Always keep in mind that good UX begets good conversion rates.
About The Author
Callum is the head of marketing at Warble Media. They are a boutique website design agency in Dubbo, NSW, Australia. He is passionate about helping local small businesses achieve success with their marketing.
Related Posts