Top 9 ways to make your event more successful with a custom t-shirt
When it comes to promoting brands, most business owners focus only on hitting a home run and swinging for fences. This strategy of marketing efforts like magazine ads and TV commercials usually resulted in an expensive affair exhausting considerable capital. Undeniably, sometimes, we do require these marketing efforts, but a smart entrepreneur knows that big solutions are not always the best one. Along with them, there are more simple and direct marketing efforts having the potential to yield great results.
Custom t-shirts are the smartest, affordable, and the most effective way to promote things to a broad audience. You can wear them and walk through malls, local parks, etc. They are great conversation starters and the chances of you getting noticed increase exponentially. If you see the latest reports on custom t-shirts, you will find that the trend of creating custom shirts has grown tremendously. Companies are using them for brand promotion. By 2025, the custom t-shirt printing market is expected to cross the US $10 billion globally.
If you are coming up with a new event, you must be thinking of promoting it. Why not use custom t-shirts as an effective marketing campaign? Here are top 10 ways to make your event more successful with a custom t-shirt: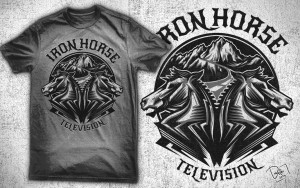 1)    Know your audience: The first and foremost thing is to identify your audience. You should have a clear understanding of the audience who are going to attend your event. What hobbies and interests those people have? What type of online communities and social media do they belong?  Knowing all these will put you in a better position to have the most significant impact from the marketing point of view.
2)    Define your budget and quantity: Most companies have a budget constraint. Therefore, you must also have a specific budget for your marketing activities while planning the budget for your event. How much you want to spend on a custom shirt will impact your design and printing quality. The number of quantities you wish to print is also directly proportionate to the printing method. Specific printing methods charge according to per-unit and bulk production, etc.
Tip: Though you have a fixed budget, we would recommend you to go for the later if you are getting a better quality t-shirt at a little higher price. After all, you want attendees to wear your t-shirt for a more extended period.
3)    Choose your t-shirt type: We all know that there are various styles available in t-shirts such as polo-neck, round-neck, hoodies, sweatshirts, long sleeves, etc. Choose your t-shirt type depending upon the season. For instance, if you are planning an event during winters, you can opt for sweatshirts or hoodies. Another best way is to ask the promoters about the styles they would like to wear during the event. This will not only make them feel special but also encourage them to do word-of-mouth marketing.
4)    Think about the placement of the design: Since you will be promoting an event through t-shirts, it is imperative to figure out where to place the design. You must have noticed that sometimes the text or image gets hide while wearing a t-shirt. It not only defeats the actual purpose of the campaign but also reflects lousy branding.
Tip: If you have come up with some hashtag for your event, place it in the center of the t-shirt. You can use the back of a t-shirt to display the logo, images, slogan of your brand.
5)    Know your printing options: Picking an inappropriate printing option is one of the common mistakes that unprofessional designers usually commit. It's evident that printing is an essential element in designing a t-shirt. Plenty of new techniques have evolved in the recent past transforming the entire printing industry. Choosing the printing method depends upon the design, and off-course the money you want to spend. Some of the popular printing techniques are Screen Printing, Heat Press Printing, Direct to Garment (DTG), Dye Sublimation, and so on.
6)    Mail t-shirts to attendees in advance: If you have planned an event at outstations, then you must have booked rooms at nearby hotels. Why not make the attendees dress in your own custom t-shirts? All you have to do is mail a welcome kit with a free custom t-shirt well in advance. It will not only surprise them pleasantly but also make a great first impression.
7)    Engage audience: After so much of planning, you'll want to make your event more engaging and exciting for attendees. So what are the things that will keep them engaged?  There are many, for instance, you can have a photo booth area where people can take selfies. And if you are looking for content for your social media activities, you can ask them to take a selfie and post it on social media with the hashtag. In return, offer them some freebies.
8)    Create buzz on social media: Apart from asking people to curate content for you, you can also create a buzz by sharing live videos, images, etc. For people who couldn't attend the event, you can engage them through live Q &A, polls, or any other activities and offer them some freebies, vouchers, and of course, your custom tshirts. It will make them feel special which will also convince them to attend your events in the future.
9)    Measure Success: Last but not least, measure the engagement and success of the event. Keep in mind all the expenses; calculate the benefits you earned from the event. While you do a step by step analysis of the investments and the outcomes, you will realize if you should implement the same plan in the future or if you need to modify the strategy.
Conclusion:
Now, it's apparent that promoting an event need not be expensive. Even a simple and tricky way can drive your promotional campaign better than one which is complicated and high-priced. Start taking advantage of custom t-shirts. Not only will the volunteers remember their promotional event for years, but the attendees too. It will be an additional wardrobe item that they got for free. They may wear it in the future which can help you promote your brand indirectly.
So are you ready to make your upcoming event rocking with an affordable yet effective way? Do write to us.
Related Posts