How to boost eCommerce conversions on your website
Maximizing the number of sales you make is a fundamental part of running a store. This applies to online businesses just as much as brick and mortar ones. If you have an eCommerce website, boosting a website's eCommerce conversion rate is something that's definitely in your best interest.
What conversion rate should I aim for?
Don't burn up too much concern over "average" conversion rates or what rates are reported in your niche. You can always take aim at improving your conversion rate and making it better than it is now.
Frankly, there are so many variables in play that it's not really fair to try and make an "apples to apples" comparison between any two eCommerce sites. The quality of inbound traffic – something that can vary hugely according to lots of different factors – plays a major role.
In the very roughest terms, conversion rates are typically around one to two percent.
Good images matter
If you forced me to choose the absolute most important factor contributing to online product sales, I'd probably go with image quality.
An eCommerce site that worked solely with images, including no product descriptions whatsoever, could probably work – albeit not as well as a combined site. The reverse isn't true: an all-text online store simply wouldn't make sales.
Every consumer has a fundamental, deep-rooted desire to see what she's buying before she makes a spending decision. Quality photos of your products are absolute necessities for making sales. Don't try to make a single photo do all your selling work, either! Offer multiple angles, in-context shots, and high-detail close-ups.
Use compelling words
Not to undercut the previous point, but you need to pay attention to your product descriptions too. Product copy plays a vital role in the sales decision; prospective customers need to have information before they commit to purchasing. Clarity is better than persuasive deception here. You don't need hype if you have full information. Let the facts speak for themselves.
Do you want short or long product descriptions? Frankly, you need both. The long, complete description is there for the on-the-fence customer, giving her enough facts to talk herself into buying. Your shorter version should concentrate on the essentials: Who needs the product, what they can expect it to do, and what makes it notably good.
In your longer description, make it your goal to provide answers to every question a buyer might possibly ask. Remember that a customer who's convinced will just skip past the rest of your copy and head to checkout; a customer who has questions or doubts left is going to leave your store.
If your products come to you from outside manufacturers, do not simply regurgitate the product descriptions the makers hand you. Personalize your descriptions and make sure your customers know why you, specifically, recommend the product in questions.
Making use of videos
Images are good, but in the future video is increasingly going to supplant them as the selling tool of choice.
Producing product videos can be expensive and it's impossible to tell for sure whether they're going to help make more sales. Start off small by creating videos for a few of your products and see if they make an impact on the bottom line.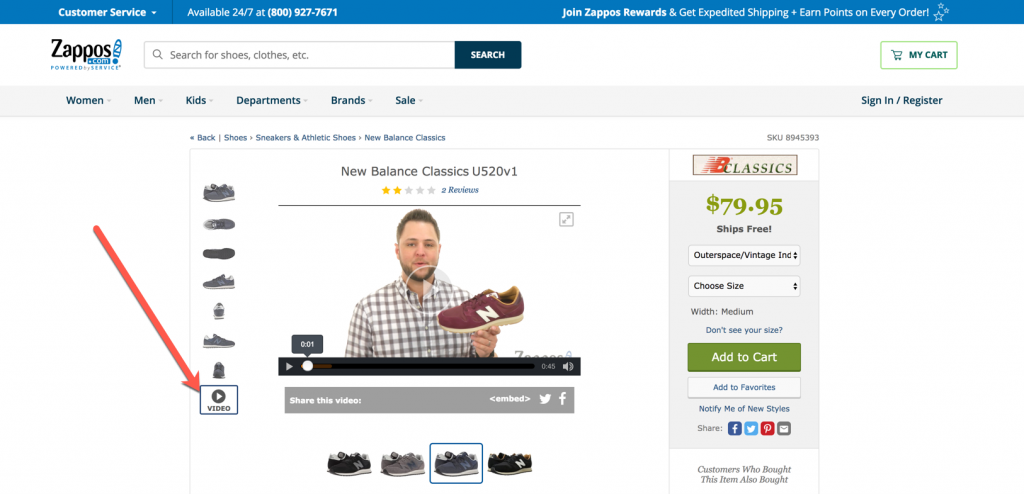 Customization equals ownership
Customizing a product is a fun process, and it has a surprisingly powerful effect on sales. Specifying the details of a product makes it feel like your own even before you click that "buy" button.
I learned the true power of customization when I bought a new laptop from Dell in 2008. It took me the better part of an hour to customize my ideal laptop using their website's powerful options. The computer I wound up buying cost significantly more than any of Dell's ready-made configurations. I got a powerful computer and a powerful lesson.
If it's within your power to offer customization of your products, strive to do so. Customization translates into more sales!
Free shipping boosts conversions
Free shipping is becoming the rule rather than the exception in online commerce. Some retailers put conditions on free shipping, requiring customers to jump through certain hoops to "earn" it. Others simply give it away for free to all their customers, like Nordstrom. Online customers have certainly noticed.
According to research conducted by E-tailing Group, fully 73 percent of online customers consider free shipping to be a "critical" decision-making factor for online purchases. 93 percent of those surveyed said that free shipping encouraged them to buy more.
To go into further detail, high shipping loomed large as the most frequently given reason for an unsatisfactory online shopping experience. Shipping costs (i.e. the lack of them) are the biggest advantage that brick and mortar retailers have over their online competitors.
On average, orders that qualify for free shipping have an overall value 30 percent higher than their cost-incurring equivalents. The site 2BigFeet enjoyed a clear connection between free shipping and conversions: Dropshipping charges for orders over $100 boosted their conversion rate by an astounding 50 percent.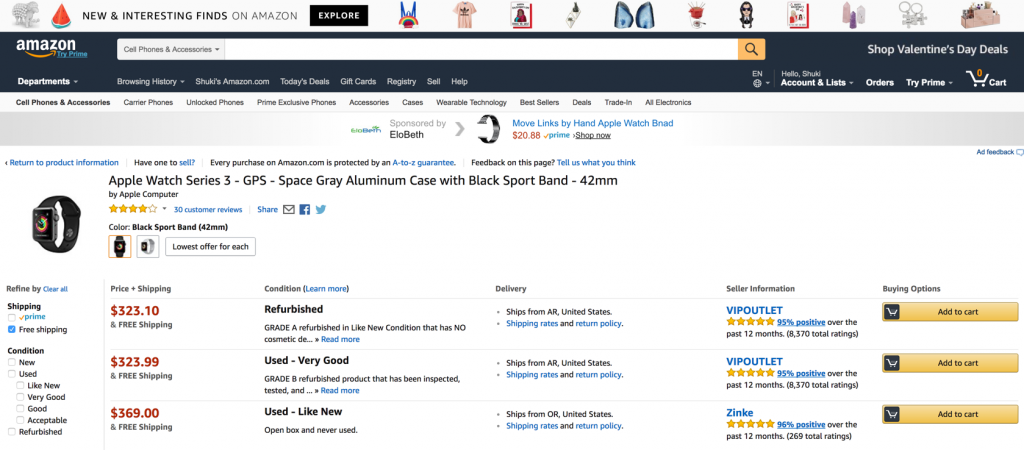 "Free" versus "cheap"
Chris Anderson, author of the book "Free," offers some insight into the dramatic difference this distinction makes. Amazon has a global reach, and the company has seen sales boom in every country where they extend the offer of free shipping. France is a particularly important example. The company was initially unable to offer completely free shipping to French customers, charging a token 20-cent charge instead. In this case, "cheap" utterly failed to create the same sales-boosting magic as "free." Sales remained largely stagnant until Amazon finally offered the people of France truly free shipping – and then they came up.
If you must charge for shipping…
Your business model might make it impossible to completely waive shipping fees. If you have to charge for shipping, make sure you mention it up front. Flat-fee shipping is also preferable to more complex calculations; customers love simplicity.
The real killer to your conversion rate is the surprise shipping fee that inflates the price of your products right at the end of the transaction. Based on the survey mentioned above, nearly half (47 percent) of customers will abandon a purchase if they only learn about additional shipping charges at checkout.
Abandoned shopping cart
A lot of online customers get close to completing a purchase before getting cold feet. The result is an abandoned shopping cart. The number of carts abandoned in online stores is constantly rising.
According to Forrester data, nearly every online shopper (89 percent) has abandoned a cart at least once. This is really a measure of growing consumer sophistication; more and more customers are comparison-shopping and abandoning deals when they find better ones.
Following up
A simple follow-up email is a great way to reduce your abandonment rates. An effective anti-abandonment campaign can pay for itself many times over; SmileyCookie discovered that a decent campaign enabled them to recapture 29 percent of the carts their customers abandoned.
The great news is that many integrated eCommerce web development platforms (e.g. 3DCart, Volusion, and Magento) have built-in abandonment tools. Even if your preferred platform doesn't offer this functionality, it's likely that reliable add-on software can add it.
Related Posts