Boost Holiday Sales: How to Maximize the Season's Potential
As the holiday season approaches, many stressful customers will be looking for quick and easy solutions for their holiday gifts. This year, holiday season sales are predicted to break the record and make $83 billion, including Cyber Monday which is predicted to generate $3 billion in sales.
As clearly seen, the numbers keeping rising and online businesses must prepare their site and optimize it for the surge in traffic they will be seeing over the next few months.
There are countless tips on how to prepare for the holiday season however the most important part of the preparations will be understanding your customer's emotional state before, during and after the holiday season. Understanding this is crucial for identifying the right customer journey that will fulfill customers' needs. So here are some last-minute, important tips to boost holiday sales. Keep them in mind when preparing for this season:
Setting Up for the Holidays:
Before optimizing design elements and launching new holiday campaigns, there are many technical elements you can optimize to avoid issues. More traffic coming to your site opens a whole world of bugs and technical issues that need to be addressed before they happen.
1. Optimize Your Site Speed
Make sure your site speed is optimized and that everything is loading quickly and correctly. With 40% of visitors willing and ready to leave your site if it doesn't load within 3 seconds, and 79% of your customers not even willing to give your site a second chance if the site loads slowly, you want to make sure everything's running smoothly so that these technical details won't cost you the holiday season.
Gain site speed insights from your google analytics account by clicking on Behavior → Site Speed.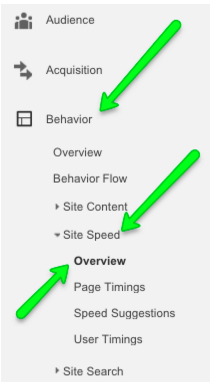 Understand  your loading times on different browsers, along with the loading times of specific pages. You can also go to Google's Page Speed Insights and get specific instructions and recommendations on where you need to improve. And in this day and age,  you should constantly work on optimizing your page loading times.
 2. Review Tracking and Optimize for the Holidays
To understand the power of your holiday marketing strategies and to know how effective they are, make sure your tracking is set up correctly. Know the difference between a holiday shopper and an everyday shopper. Use utm campaign tracking and google analytics integration with the tools you use in order to know exactly where your users are coming from, and to know what marketing efforts are paying off.
Also, enable Enhanced e-Commerce Tracking on google analytics to make sure you are tracking your revenues accurately as well! With this information, you can learn how to improve, what to optimize and where to focus your efforts. next holiday season as well!
3. Take Advantage of Mobile Web Potential
According to Adobe, for the first time ever, mobile web is going to overtake desktop with 51% of online shopping visits, and will make up 29% of online sales on Thanksgiving day.
In fact, according to MarketingLand, mobile device purchases increased by 140% last holiday season, and this trend is supposed to continue this year as well.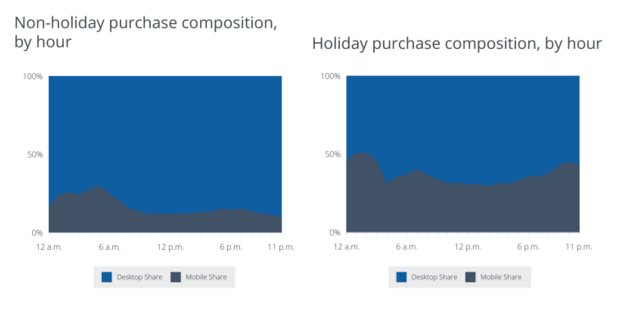 These days, over 50% of eCommerce sales are taking place on smartphones and tablets, so if your mobile site is not ready, you are most likely going to lose some very relevant customers.
Make sure that your site is running smoothly on google analytics by checking your google analytics site speed insights (as mentioned above), and reviewing the loading times for your different browsers. To get the most our of your mobile visitors, understand their behavior, their goals, and create a dedicated solution for them Banana Splash could be a great tool for optimizing your user's experience with personalized calls to action on mobile.
Planning your Holiday Campaigns:
4. The Power of Shipping
When asked what  most influences consumers to buy online vs in person, 80% of people said that the biggest element that influences their decision is free shipping.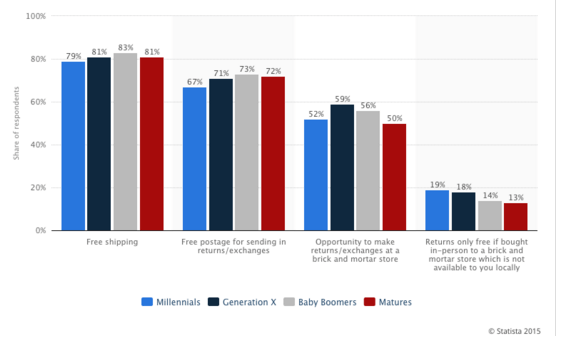 On an "every day" occasion,  shipping costs have a huge impact on purchasing decisions, however during the holiday season that impact increases tremendously, and the customer's biggest concern is time of delivery. During this time, most customers are stressed and worried they won't receive their purchase on time which is why guaranteeing a delivery date in a prominent location on your web page is key for higher conversion rates. Make sure people can see easily that their package will arrive on time.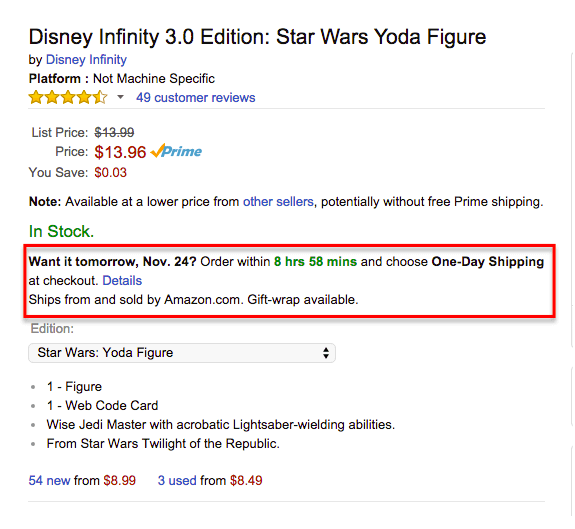 Pro Tip: Not everyone can pull an "Amazon" and have same day shipping, but guaranteeing that the shipment will arrive in two days, or in two weeks even, can help give the user a sense of ease and control."Buy now and get this delivered by November 27th, 2015": If you add a sense of urgency to it, you can make it even more powerful, like Amazon does.
So among your cheerful holiday deals and discounts, we recommend offering free shipping and guaranteed delivery dates in order to improve everyone's holiday season – your customers satisfaction and your revenues.
5. Promote Sales and Exciting Discounts with Pop Ups
When people do their online holiday shopping, they usually have many tabs open and spend most their time searching for the best products at the best price. One thing you can do to stand out from your competitors and get your potential customer's focus, is a perfectly timed pop up.
The pop up can be informative and let your visitors know you offer free shipping to their country, a free gift, or a coupon.
When creating your pop up, remember it has one goal and only one call to action button so that your users do not experience analysis paralysis - too many options which result in customers passing on your offers.
Take advantage of the many different popup options available:
Time-based pop ups: This type of pop up is configured to show up at a preset time, for example – once a visitor has spent long than 20 seconds on a certain page. These types of pop ups help differentiate the "serious" customer from the hesitant one.

Exit popups:  these types of pop ups appear when someone is about to exit the site.

For desktop, you can see what plug ins and different pop up options you have for your site. There are hello bars, pop ups, and exit pops of all different sizes, shapes and styles!
Walmart takes advantage of their drop down menu to offer  $5 savings: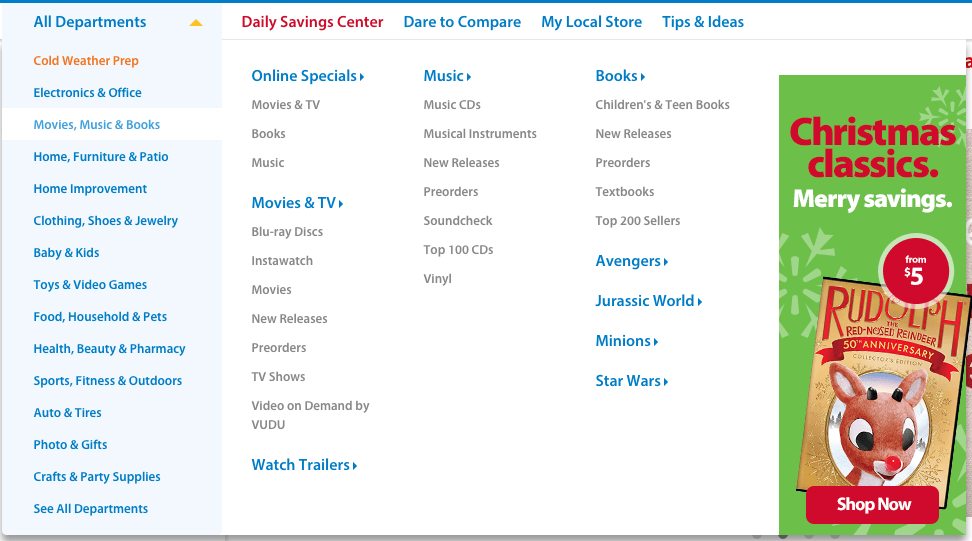 6. Utilize Thank you pages to increase retention
Your job does not end once your customer has completed their purchase . The thank you page, or order confirmation page, is your gateway to increasing retention and getting more out of the customer. In psychology and persuasion, there is a compliance technique called the foot-in-the-door technique, where a person is more likely to agree to a large request if they first agree to a smaller request. In this case, your customer has already taken that first step and purchased something, so you have an opportunity to motivate your customer even more and develop a relationship for future purchases.
A thank you page can include  additional registration steps to get more info about your customers, a request to share or review a product, or a discount for their next purchase.
Consider offering discounts in return for newsletter registration.A little personalization including suggestions for similar items can also increase conversions.
7. Personalization
Almost three-fourths (74%) of online consumers get frustrated with sites where content (e.g. offers, ads, promotions) appears that has nothing to do with their interests.
40% of consumers buy more from retailers who personalize the shopping experience across channels (MyBuys).
Customers appreciate relevant content and suggestions which make their life easier. This is crucial for the holiday season as most people struggle with finding the right gift. For example, personalized lists with suggestions make it much easier on customers to get ideas.

"Epic gift ideas" – Not necessarily personalized for a specific person, however sent at the right time, customers will definitely click on these lists as they are in need of some help.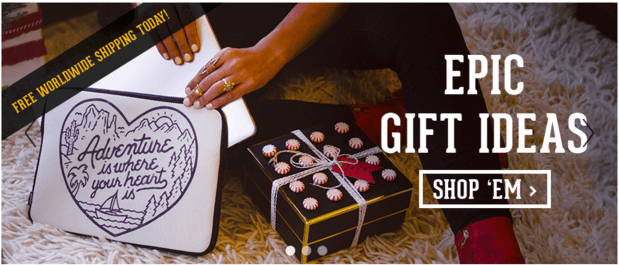 Another special touch is offering an option to add a personal note to a customer's gifts. In this day and age, people live far away from their loved ones so sending a gift straight to someone's door happens often. Giving your shoppers the option to personalize their gift with a message or  gift wrap can make a huge difference. It's those small touches that can really create a connection and a happy, returning customer.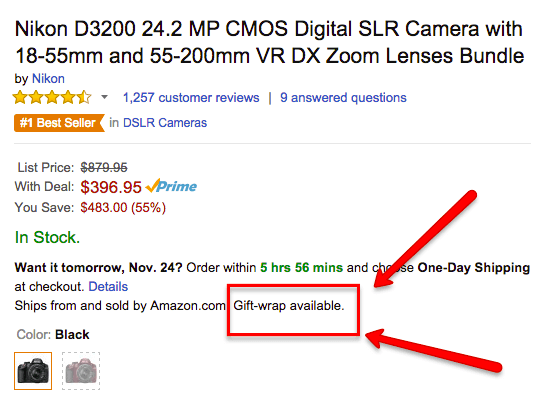 8. Beautiful, Relevant Content – Straight to Your Customer
Quite honestly, I believe that Email Marketing deserves a post all on its own, what with the complexity of subject lines, the email content, the imagery, the link tracking, etc. But with Email Marketing expenditure in the U.S alone at $2.07billion, and the number of email users in the US in 2015 at 232.8 million, it also deserves quite a nice mention in here.
First, plan your email marketing schedule. We have a busy holiday season so you want to strategically plan out your announcements and discounts in an effective way. This may mean scheduling the big discounts right after Thanksgiving or two weeks before Christmas (if you can make sure shipping will get to them in time).

Next, write your emails out in advance. Even with your schedule, you want to have these emails ready in advance because you do not want to have to write them in the middle of the holiday season storm. You want to have time to think about these emails. Think out the subject line,the copy and the imagery to make sure you get it all right.
Sending out a special email to those loyal, top-customers who have purchased from you once or twice can help create brand loyalty. Thank them for being loyal, and give them something special (perhaps an exclusive discount or offer) to show them you appreciate them.
The Number of Digital Shoppers in the United States from 2010 to 2018 (in millions):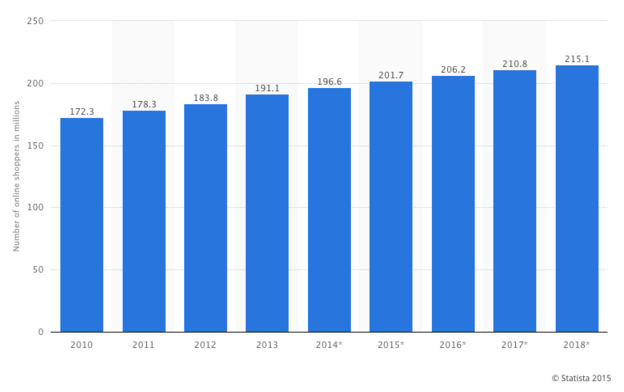 With the number of online shoppers estimated to continue increasing during the next 3 years, you should definitely learn what you can from the successes and failures of your Holiday strate-cheer (that was a failed strategy-holiday pun) and improve it over the next  few years to optimize, keep testing, and optimize some more!
What are some ways you're preparing for the holidays?
Related Posts