Content – How to get quality content on your website
Back to Glossary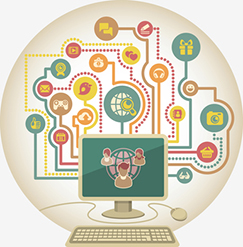 Content is one of the most valuable ways for a website to remain relevant, encourage user interaction and increase your conversions. It is a key part of search engine optimization (SEO), and is critical for any site that wishes to attract new visitors and grow. However "content is king" for a good reason. It is not enough to have long and meaningless content; you should always make sure your content is natural, relevant to what you do and provides extra value for your readers.
Do you know 3 ways to get maximum click through rate on your post headlines? Find out here.
Best ways to write quality content for your site
Quality content needs to be well written, clear and most importantly, original. The content on your website needs to clearly communicate your website's message in a way that your target audience will not only understand, but will respond to, interact with and share.
When writing new content for your site, always think about how the user sees it; Will your users understand what you are trying to say? Will they be interested in the content you publish? Will they like it and share it to their friends?
Here are 5 tips on getting your Facebook posts to convert
Learn how to build a conversion optimization strategy that works