3 Ways Skydiving Made Me Better at Conversion Optimization
I started skydiving about five years ago, everyone thought I was crazy. It started out as a one time thing, "just an experience" is what I told everyone. But the moment I stepped out of that plane, I knew it was over. This is who I'm going to be – a skydiver.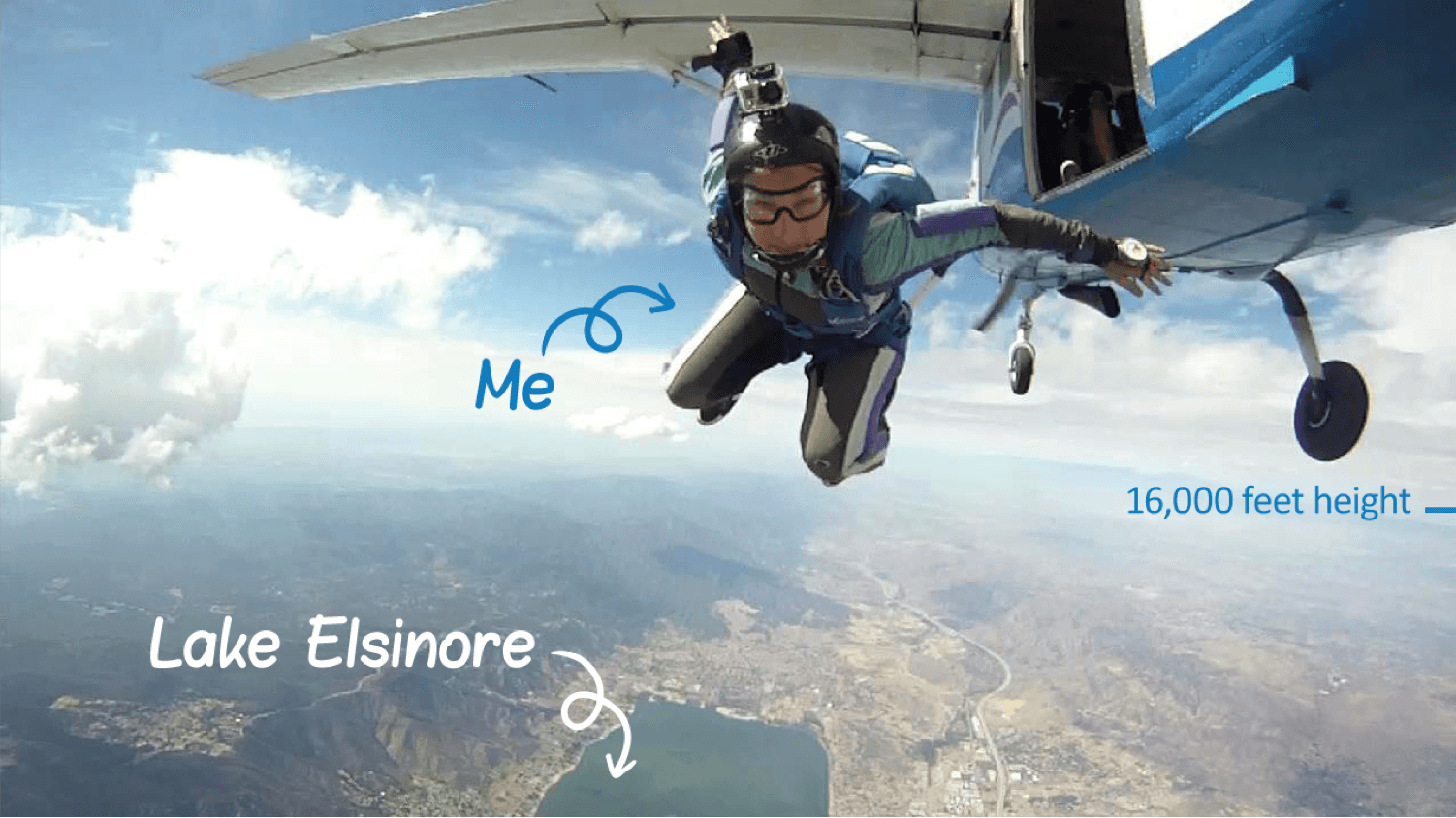 Skydiving is all about challenging yourself, pushing new boundaries and taking the plunge. And yes, that is exactly how conversion optimization works.
It is skydiving (among other things) that taught me how to be a better optimizer. 5 years later I think it's time to sit down and discuss how skydiving made me better at CRO and how you can utilize these CRO hacks to your advantage.
Gearing Up
Like anything in life skydiving has a beginning a middle and end. Each part has its own complexity and sets the tone for the next one.
With just over 600 jumps I get asked quite a lot if I still get scared before jumping out of the plane. My answer is always the same: Of course I get scared… I'm jumping out of a plane!
The thing about skydiving is that if you're not worried, you're doing something wrong. Either you're not challenging yourself enough or you don't understand the complexity of what you're doing.
Before taking the plunge it's exciting and worrying all at once. You constantly ask yourself if it'll work and what will happen? This is exactly how it happens with CRO. And to answer all these questions you have to carefully prepare:
1. Assembling a team – the first part of a good jump is creating your team and allocating tasks. Each person on the team has a vital part in helping the jump succeed. It's crucial for everyone to be on the same page. In conversion optimization, getting your team on board is crucial for your success. Though you can do it yourself, having a team that's dedicated to the test in hand is helpful. Our recent article on how to get your team on board with CRO can give you a few good tips for rallying everyone and getting the job done. The key, is connecting everyone under the same goal, and showing people how CRO can not only increase ROI for the company but also optimize everyone's daily workflow. Conversion optimization is all about learning and optimizing not just the current KPI but entire workflows. We'll get to this in more detail later.
2. Defining a goal – Every jump has its goal. As a skydiver you want to optimize your personal progress and your team's. You can only have one main goal per jump. Focusing on more than one main goal is distracting and makes analyzing the jump later more difficult. In CRO, much like skydiving defining one main goal is key for success. Once you have one goal (e.g – signups or more purchases), your entire team's efforts can focus on it. This ensures that all test materials are dedicated to this goal only. Trying to reach more than one goal  may confuse your team. It could make it hard to analyze the results and understand them. Goals can change from test to test, but make sure you choose one goal and one goal only and strive for that. Align your team, so everyone knows what you're aiming for. This way you will be able to evaluate your performance as a team better.
3. Research and planning – Once you've set the goal, it's time to dive into some research and start planning the jump. On one hand I could just get on the plane, plan the jump on the way up and just see how it turns out. This is quite common in skydiving and even more common when it comes to conversion optimization tests. Many optimizers neglect the first part of research and preparations. They jump straight to testing. For me, planning is the most important part of the jump. Careful planning and research will result in a successful jump. I may not reach my goal completely within the jump but I will be able to know what went wrong, what I need to optimize and what to do different next time. In CRO, careful research will show you the pain points of your funnel and tell you exactly where to start testing. Start by understanding your current metrics, track what matters and choose a starting point. Once you've chosen a point in the funnel to optimize, don't guess or test for the sake of testing – build a strategy, and follow it. So, I could just make the jump without planning and enjoy the ride. But as a professional skydiver and optimizer I want to progress. I want to prepare and be able to optimize my performance with each jump (or test) I take.
4. The checklist – Before boarding the plane I always have a checklist. It gives me a moment to go over my plan and gear and make sure I haven't neglected anything. My checklist consists of going ever my carefully planned jump, making sure the entire team is focused and checking my gear. My CRO checklist is pretty much the same:
Realign my team under the same goal – make sure everyone is on the same page
Check tracking and the testing platform (e.g: are the goals firing?)
QA, QA, QA (on all browsers and devices, is your variation working correctly?)
This pre launch checklist on Optimizely's site is a great source of information.
Also, checkout our landing page checklist to ensure you've addressed everything.
Taking the plunge
The best part happens next: The jump. Blood rushes to your brain and you get an adrenaline rush. This the part where you stay focused. Once you've launched a test, you have to give it time to run its full course. Watch it closely, give it time and do not stop the test until it's reached statistical significance.. Most marketers are quick on the trigger. The smallest sign of the test being unsuccessful and they stop the test. Win or lose, a test is a learning process and you have to let it run. As a skydiver the worst thing to do is quit a jump in the middle.Stopping means losing all chances of learning from the process and benefiting from it.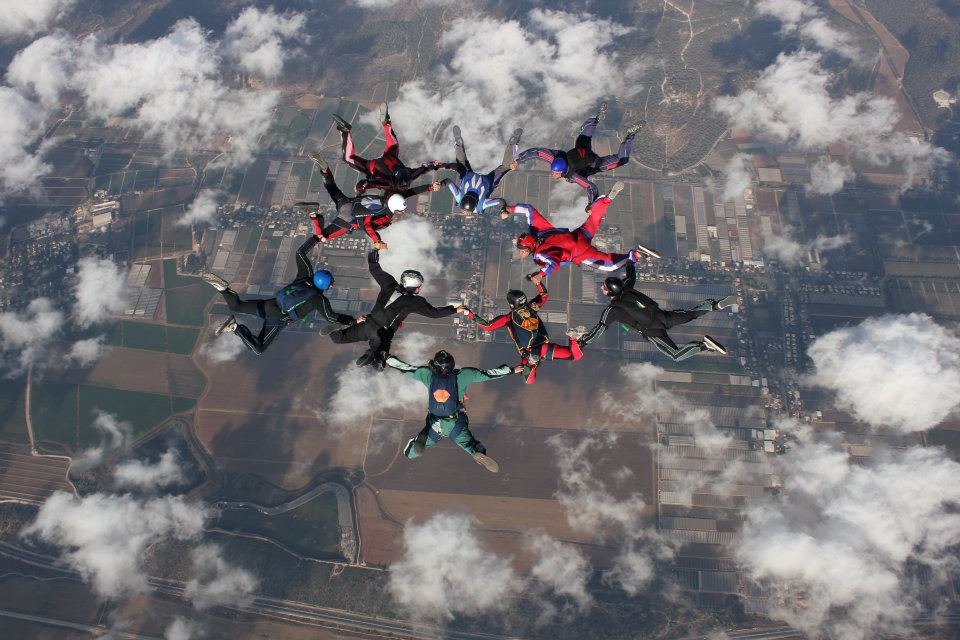 Pic by: Inbal Harosh
The Aftermath
The Aftermath is just as important as the planning stage. One thing I noticed about myself is that immediately after the jump I'd start criticizing myself and driving conclusions from it before I've even looked at the video. By the time I've picked up the chute from the ground and started walking back to the hanger I've already decided I'd failed and it was a waste of time.
Enter – Hannah Betts, one of my favorite coaches and a truly amazing hard core women (who also happens to act as a stunt double on Marvel's Agents of Shield!). If Hannah taught me just one thing – it would be not to rush to conclusions, watch the video, take a deep breath and mention all the good stuff that you've learned. This is actually great advice for life in general but let's focus on testing. Analyze the test, take it all in and look at the numbers. Evaluate the results according to your goal, the process you went through and strategy. Good testing helps you learn more about your customers, and grows your business. Whether it fails or succeeds, the most important part of the test is learning from it and being able to apply these findings within your business. If you built your test wisely and understand the results you can improve not just KPIs and ROI but your entire sales process, your customer service and of course your product.
Main takeaways:
Plan ahead – build a strategy that resonates with your goal and more importantly allows you to learn from your tests.

Don't be afraid to try new things – testing elements on a landing page is nice, but if you really want to learn – dare and push new boundaries.

Listen to people who have experience – take in everything and don't be embarrassed to ask.

Learn from every experience (the successful and the failed ones) – Have I said this enough?

Enjoy! – to be a true optimizer you need to have fun and enjoy the process. True optimizers looks for ways to optimize everything in life.
Skydiving has taught me a lot about optimization, patience and testing. As the quote at the entrance to our office says:
"Never stop testing and you will never stop improving." D. Ogilvy
Thanks for taking the time to read about mt experience as a skydiver. Let me know if you have any questions in the comments below.
Related Posts