Above The Fold – For Websites
Back to Glossary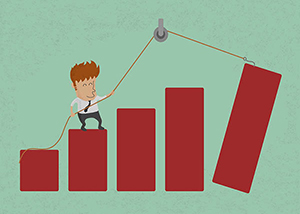 Above the fold is an old term that refers to the upper half part of a newspaper's front page. It is the part where the important images & stories of the news appear and get the most views. The above the fold section of a newspaper is similar to the above the fold section in the online marketing world: the place that gets the most attention. It's where websites have the greatest chance to engage users and turn them into customers.
In web design, the above the fold section refers to the part visitors see immediately on your webpage or mobile page without the need to scroll. Below the fold is the portion that requires you to scroll down to view the rest of the content in that page.
* Heatmaps are a great way to understand user's behavior and your above the fold section. They usually even have a feature that tells says exactly what percentage of users scroll down to different portions of the page.
Check out these 10 landing page examples for illustrations of what to do
The Importance of "Above the Fold"
When visitors enter your site, you  have less than 2 seconds to convince them to convert into paying customers. Therefore, since your content above the fold is the most visible, you should put your efforts there. Make sure you have a clear message and a call to action above the fold so your visitors know what you have to offer and are able to complete the funnel quickly without scrolling or looking extra information. That said, it's crucial that the above the fold section holds only the most important information and does not overwhelm your visitors.
These days users use different devices for different purposes so it isn't enough to just stick the call to action at the top of a page with an image – it needs careful planing and understanding of your audience. Check out why responsive design isn't a mobile optimization strategy.
For more about above the fold and for other landing page tips, check out our blog.