5 Golden Rules For Launching A Conversion Optimization Test
When it comes to conversion optimization there are many rules, techniques and AB test checklists you should follow. The hardest part in CRO is deciding what to test – finding the leaks in the funnel, coming up with hypotheses, prioritizing tests and getting the team on board. Miss out on one of these steps and all the time you've spent in launching your tests will go to waste.
Finding the leaks – When is it comes to identifying the pain points in the funnel, Google Analytics is the first place you can turn to. There are many metrics to follow that will give you a clearer picture of your results: The top landing pages on the site for example, are important as we want our tests to impact the bottom line results, sessions count too for understanding the traffic coming through your site, traffic sources, exit pages (which pages are being abandoned the most by your visitors), your conversion rate of course, new vs. returning visitors, demographic reports and more. Don't forget to use heatmaps to get an even better understanding of your visitors' behavior.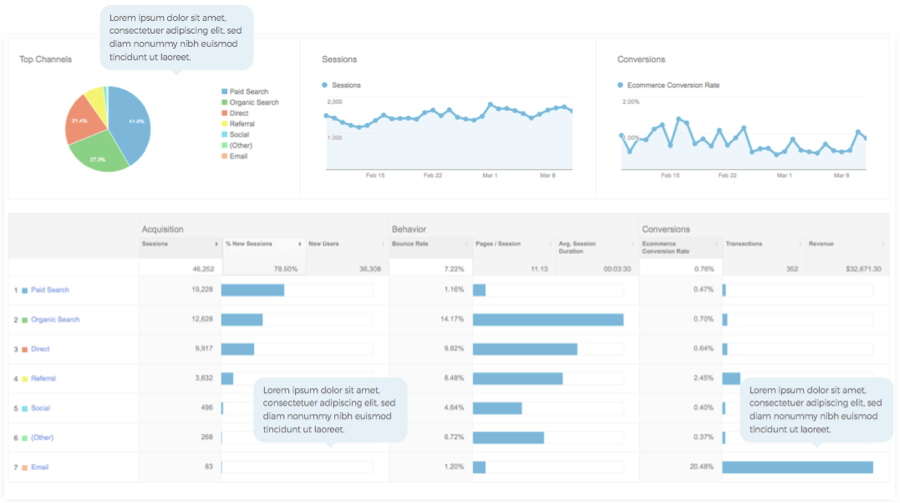 Prioritizing tests – You've found the leaks, now you need to determine what would be the best place to start. Time, resources and impact are 3 main parts of our checklist before deciding what to test. How much time will it take to get validity, how many resources in terms of the team and money spent will we need and most importantly – how much impact will testing this part of the funnel have on the end results.
Coming up with Hypotheses – once you've located the leak and decided where you want to test, you have to come up with strategies and hypotheses for optimization. It's not enough to just change a call to action a button, you have to dive deeper into emotional triggers – your customer's emotional needs and goals. Get some testing ideas from our latest post: 4 meaningful AB test ideas. Remember that conversion optimization is all learning and gaining greater insights about your customers – this knowledge can then help you create a better customer jounrey and grow your business.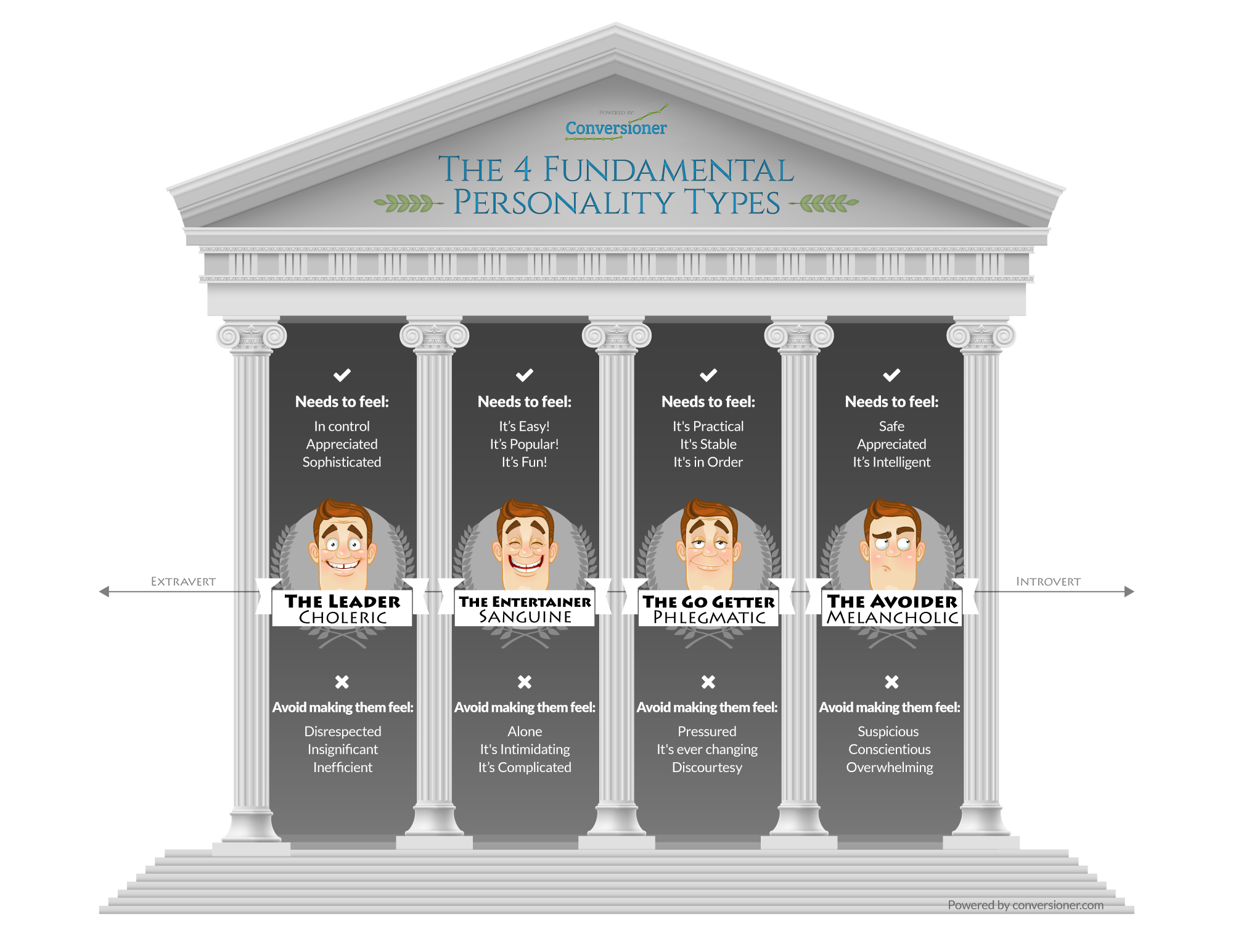 Getting the team on board – Probably the most important part of CRO before launching a test is getting all the team on the same page. For many team members CRO is often times perceived as a distraction, something that's getting in the way of "important" work so spend a lot of time explaining the importance of CRO to your team and demonstrating how it can help each individual do their job better. After getting your team on board with CRO in general, you then need to explain your findings, hypotheses and make sure that the team is aligned with your expectations.
The, once you've done all these and set up the test, it's time to follow these 5 golden rules for launching a conversion optimization test:
Traffic Distribution Google has a tendency of remembering pages that already exist and favoring them. To make sure your test isn't contaminated with old data give all landing pages a new link. This happens on various platforms, once Google sees that one page has had more traffic than the other and more results it favors it. Another option while setting up the test is to distribute the traffic evenly across all variations and that way certain pages won't be "favored".
QA – Don't just start the test. This may seem obvious to some but I've seen dozens of tests go wrong just because the footer was misplaced, or the errors won't showing up correctly. Don't forget to check for:
Browser compatibility – Check on all browsers (don't forget to clean cache and also QA from incognito).
Errors – See what happens when someone enters the wrong data in a form. Make sure you know exactly what happens to users every step of the way
Mobile compatibility – Very important issue, mobile traffic is on the rise and you HAVE to have an answer for mobile traffic. Check out these amazing mobile stats and get 9 essentials tips for improving your mobile pages.
Time – It takes time for a test to be conclusive; you'll be surprised to see the difference in the results from hour to hour. Give the test at least 4-5 days to run to see conclusive results (depending on the amount of traffic). You'll be surprised to see the difference in the results from hour to hour.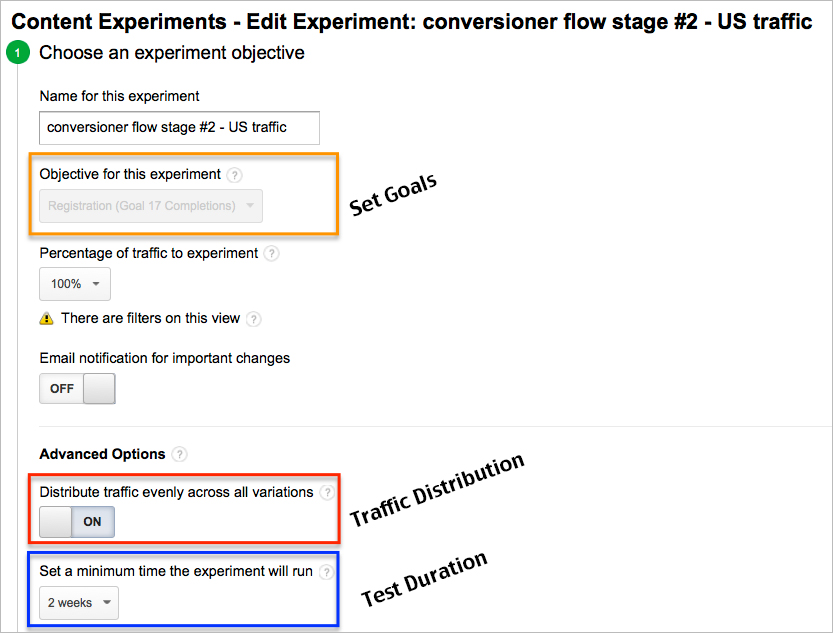 Set Goals- What would you like to test? Make sure to set your goals correctly before you start testing. It is important to have 1 clear target for the test and keep to it. It's also best to start at the top part of the funnel and make your way down, meaning don't be tempted to jump straight to the payment process for example, start with the signups, this way you can be sure you are building a successful funnel. Be sure to set the goals on Google Analytics.
Loading time – As I've written in several posts, the amount of data we're exposed to on a daily basis as users is HUGE. We have no time, gone are the days when we clicked on a link and waited for a site to load, we want everything NOW and if your site takes longer than 5 seconds to load, you will lose 25% of your traffic. A few tips to fix your site's speed. Most important one: "The 'Distribution' report is tucked away behind a tab in the 'Page Timings' report. The distribution report is very useful, as you can see '% of pages loaded in less than X seconds'."
We'd love to hear from you, do you have any golden rules and tips before launching a conversion test?
Related Posts