Engagement – engagement marketing tips
Back to Glossary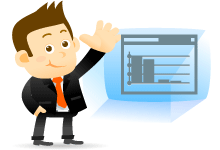 Engagement is a strategy used in marketing that reaches customers directly and encourages and invites consumers to participate and take action in a website. The notion behind engagement is that engaged customers will be long-term consumers, who commit more conversions, for a longer period of time. It also encourages customer loyalty and public interaction through word-of-mouth.
Learn how to create an engaging landing page.
Engagement marketing tips
Develop a strategy – developing an engagement strategy that is clearly outlined will help improve your marketing. A clear approach and plan for your engagement is very important. In your plan, you have to include how you will reach out to your visitors and how you will be able to interact with them.
Focus on relationship and content – focusing on interesting and relevant content is important when it comes to engaging with your audience. Try to build genuine relationships with your visitors by providing them with valuable content they can't get anywhere else.
Engage with social networking – social networks like Facebook, Twitter and Linkedin among other social networking sites can capture the attention of millions of people. Social networking communities tend to share their likes and passions. Create viral content that people would love to share using these social networks.
This is how we used emotional tricks for conversion optimization in a social platform.
Check out our blog to keep up to date on strategies to drive engagement