Enhancing the Digital Experience on Mobile
Following conversioner's latest mobile optimization guide and article: Responsive design is NOT a mobile optimization strategy, we continue to talk about the digital experience on mobile.
In his latest webinar, Ian Everdell shared his knowledge on how to take advantage of the different experiences of the ever growing mobile population. To fully understand how to make the most of mobile we must first know when and where people use their mobile devices.
Mobile Usage
When we think about mobile, often you will hear that mobile users are people who are always on the go. May it be walking from work or buying groceries, they can devote a little bit of their attention to their messages or their web experiences. However, that is not always the case. According to Luke Wroblewski, there are more contexts in using mobile devices and "on the go" is only one of them; the others are more on the context of exploring and playing.
In Luke's article, he showed a detailed insight on when and where people use mobile devices. And in comparison to desktop usage he states that: "While someone can certainly use a mobile device at a desk, there is a much wider set of contexts possible because mobiles are portable"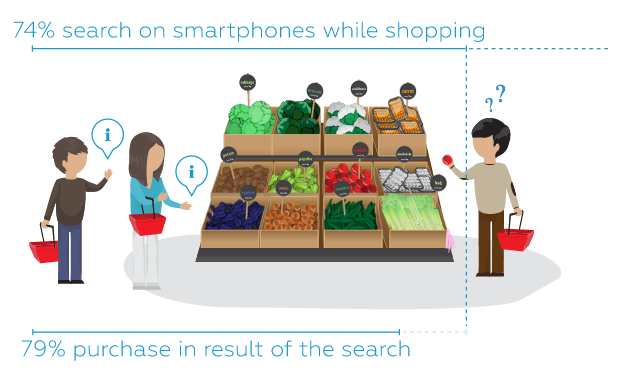 There are lots of different ways people are using their devices and in different contexts. And all of this contexts are going to affect the way they use your digital properties. Aside from this, there is also a difference in the way we use our mobile devices depending on the time of the day. People use their devices more during early morning or late at night, whether it is reading the latest news or going with the second screen experience while watching TV in the evening. Later in the afternoon, most of us devote most of our time working at a desk-type online work. So understanding the times of the day that people are using your sites and from what devices they are coming from can influence the experiences that you are going to create.
Digital Experiences on a Mobile Device
There are four different experiences that people can have on their mobile devices:
Mobile Search
Mobile Email
By taking into account the best practices on mobile, we will be able to tailor those digital experiences to the mobile environment. First is mobile search, looking primarily on pay per click and search engine marketing. Then there is mobile email and how to get users to read and click emails that you are sending through your email marketing campaign. Then a look at landing pages in actual websites; which is, obviously, a huge part of the mobile experience. And finally it's subset which is the actual forms.
So what are you doing to generate leads or develop a market online? To convert, most people have to go through forms. Through forms you actually get information on who they are, what they are buying, and what's in it for them to give you your money. All of these are crucial parts and offers a different experience on mobile devices than when you have a keyboard in front of you with a desktop or laptop. If you want to check out more about mobile a/b testing technology and online marketing, you can view the entire webinar  here.
This post was written by Dennis van der Heijden
Co-founder and CEO of Convert.com passioned in building communities that care. Trying to make that happen inside Convert and local making people happy. I love working with my team to make our 
A/B testing software
 better for agencies and e-commerce clients.
Related Posts